Due to the price-to-rent ratio of properties in Cuenca it is hard to get a yearly return on investment of more than 5% from a rental unit. Some people think that it does not make sense to invest in a rental property when they can theoretically get twice as much ROI from a certificate of deposit.
During the busiest months of the year good rentals are hard to come by and demand has been increasing each year. It has gotten to the point where demand is exceeding supply during the busiest months and many renters are ending up having to settle for places that are not what they really want.
While the demand for more good rentals is undeniable, some investors have come to the conclusion that buying a rental property here would not be a good investment.

Due to the price-to-rent ratio of properties in Cuenca it is hard to get a yearly return on investment of more than 5% from a rental unit. Some people think that it does not make sense to invest in a rental property when they can theoretically get twice as much ROI from a certificate of deposit.
As any sophisticated investor will tell you, you have to subtract losses from inflation, taxes, etc in order to correctly calculate an investments true return. As of the date of this writing the reported inflation rate of the U.S. Dollar is about 3.5% (meaning that every year the dollar looses about 3.5% of its purchasing power). This would make a 10% CD only earn 6.5% before taxes and fees according to government's official numbers.
The wonderful thing about owning a real physical asset is that the value of the underlying asset is automatically adjusted for inflation.
Property in Cuenca has been appreciating in value at the rate of 10-15 percent a year for the last few years. Even if you were to get a 10% CD from a bank or regulated Credit Union your net gains from a rental property investment would still be more than a 10% CD. That would still hold true even if you never rented out the property!
The most important aspect of performing due diligence on an investment has to do with return of investment not return on investment. One of the key factors that differentiate investors from gamblers is that a gambler lets greed take over and focuses on how much he might make without considering how much he stands to lose. You can know all the lingo and do ROI calculations until the batteries go dead on your calculator but if you don't also focus on protecting the initial investment then you will suffer a gambler's fate when you least expect it.
Below is some key information that I guarantee you have not heard anywhere else. It will give you insight into the different ratings of local banks and credit unions as well as go into detail about the Ecuadorian government's FDIC type deposit insurance.
Every Bank (banco) and every Credit Union (cooperativa) that is registered with the Superintendencia de Bancos is bound by transparency laws to have their financials looked over by independent auditors. You can see a list of all regulated financial institutions in Ecuador and there respective ratings by clicking on the link below.
www.sbs.gov.ec
In addition properly registered financial institutions pay money to an FDIC type entity which is called the COSEDE in Ecuador. The COSEDE is currently insuring deposits for up to $28,000 on all accounts in those banks and Credit Unions which operate under the supervision of the superintendencia de bancos.
www.cosede.gob.ec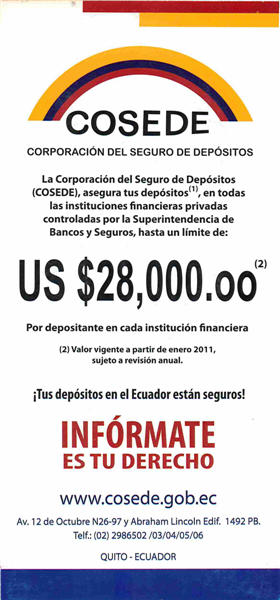 Ecuador's FDIC reports to have a reserve fund of about $400 Million dollars for reimbursing account holders of participating financial institutions for potential losses. The cost of the insurance is paid for partly by grants and partly by those financial institutions which pay into the fund.
Banks and Credit Unions in Ecuador use "Fractional Reserve Banking" just like in the U.S. and most other countries. Don't worry if you don't know what that means and pay no attention to that man behind the curtain.
Now let's consider one thing that could wipe out your CD's while leaving Real Estate assets completely untouched; a collapse of the U.S. dollar. What used to be considered a wild conspiracy theory promoted by so called right wing extremists is now a possibility that even the President of the United States is addressing in press conferences. This video is sobering to say the least.
www.youtube.com/watch?v=tlafH458sGE
If the Dollar collapses and you have a rental investment property then you just start collecting money from the renters in the new currency.
We are not saying that there is anything wrong with investing in paper but some people consider bricks and mortar to be a better investment.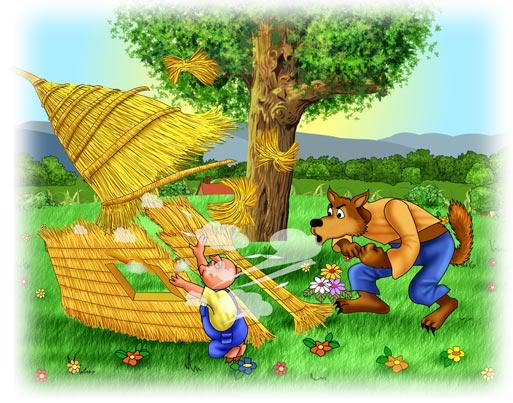 Another reason to buy a rental investment property is for the good of the community. Although Ex-pats, especially those from the United States, tend to overestimate their numbers, importance, and influence it could really get to the point where we start having a negative impact on the local market.
In Cuenca's most desirable areas about a third of the renters are Ex-Pats and we make up about 10% of the total rental market. The demand for more rental units is set to go up dramatically over the next year and unless more rentals come online then prices will rise. If rental prices rise too much then we may find our self in a situation where locals can no longer afford to rent property. I think all of us can agree that the last thing we want for Cuenca is for it to turn into another Vilcabamba.

Disclaimer: Running out and buying a rental investment property is not something that is guaranteed to be a good investment. There are many things that can go wrong and many ways to screw it up. Even one minor mistake can cut your ROI in half or eliminate it all together. There are also ways to make it a hassle free source of steady income. It all starts with the proper selection of the property; if you mess that step up nothing else you do later can make up for it. If you are not sure of what you are doing then it's best to get competent professionals involved rather than put your money at risk.
Tags: CD, Cooperativa, Cuenca Rental, Ecuadorian FDIC COSEDE, Investment Property, Rental Income, ROI, Superintendencia de banco